Temp Control
We began our Temperature Control division in 2010 and it remains a target for continued growth. Here at Maverick we want to develop a true partnership, providing you with exceptional service and comprehensive solutions. As a Maverick customer, you can expect your load to be delivered with the safest, best maintained, modern equipment in the industry. We've proudly invested millions of dollars in an effort to make our trucks the safest on the road. Each unit is equipped with collision mitigation, roll stability control, and lane departure technology with forward looking cameras, which demonstrates our ongoing commitment to safety and innovation.
Facts about Maverick's Temperature Control Division:
100% ELD compliant
New equipment
Trailer temperature tracking & control
Increase payload 46,500 lbs
Industry leading claims ratio
High on-time delivery percentage
Extended Services: 24/7 Tracking
Customized Solutions: OTR, Dedicated, Brokerage, and/or Regional
Weekly Commitment Program
---
Temp Control Sales Contact:
Taylor Smith
Director Sales & Logistics - TC
(501) 955-1427
tsmith@maverickusa.com
---
Temp Control Customer Service:
Ben Dowdy
(501) 955-1312
​bdowdy@maverickusa.com
---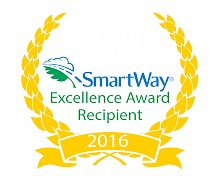 Maverick Transportation has been honored for a second year with the SmartWay® Excellence Award from the U.S. Environmental Protection Agency as a true industry leader in freight supply chain environmental performance and energy efficiency! We are incredibly proud of the groundwork that has been laid by our leadership, as well as the joined efforts of our fleet in achieving this accomplishment. Check out our official press release by clicking here.