2014 June Driver of the Month
Mark Taylor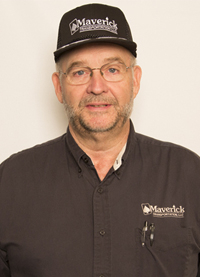 Maverick Transportation announced Mark Taylor of Springfield, TN, as their Driver of the Month for June 2014. Taylor has been with Maverick almost 4 years and started his professional driving career at Maverick in November 2010. He has been driving for a total of 8 years.
"Mark is the epitome of a professional driver," said Fleet Manager Heath Ericson. "He's such an excellent representation of Maverick anywhere that he goes - whether over the road talking with other drivers or meeting a customer. He's always nice, easy to talk to, and is helpful out on the road to other drivers as well."
The sixth recipient of twelve Drivers of the Month for 2014, Taylor has proven himself a leader in the company's fleet. His favorite part of driving for Maverick is, "the honesty here. Maverick not only talks the talk, but they also walk the walk - and they do it with some of the best safety equipment out there on the road."
---
Outstanding service gets recognized at Maverick.
The Driver of the Month program is a high honor for specially-selected Maverick drivers. Every month Maverick recognizes a driver from the company's fleet who demonstrates exceptional commitment to their profession, while maintaining Maverick's standards of holding safety in the highest regard. At the end of the year, all Maverick employees vote from the twelve Driver of the Month honorees to select the Driver of the Year, which is announced the following January. As Driver of the Month, the recipient also serves as a voice of fellow drivers on the prestigious Driver Advisory Council, which meets with our leadership team on a quarterly basis.